I found an article that Gregg Doyle of cbs.sportsline.com wrote the other day and it made me cringe. This article claims the Cavaliers have no chance at winning the NBA title and I felt the need to address a couple of points that I feel he is way off on.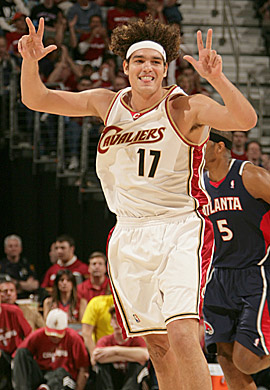 Careful, Cleveland. Your
Cavaliers
are riding high, which means you're riding high, and that's fine as long as you ride high with one realization:

Your team isn't winning the NBA title. Not this year.

So keep that in mind, or at least keep that possibility in mind, as your Cavs continue to destroy the Atlanta Hawks in the Eastern Conference semifinals. Have your confidence. Enjoy this ride. But understand that there are certain things you cannot say, certain ways you cannot act, unless you have the best team in basketball. And you do not.


I beg to differ. Doesn't having the best record in the NBA give us the right to gloat about being the best team? Doesn't holding opponents to a league low scoring avg. of 91.4 points per game give us reason to believe we are the best? Or how about the FACT that we had the best point
differential in the NBA at +8.9?
• Series:
Cavaliers 3, Hawks 0


So don't let your alligator mouth overload your hummingbird ass.


Pot meet kettle!
Because the Cavaliers, as good as they are -- and they won 66 games this season, scorched Detroit in the first round of the playoffs, and are scorching Atlanta in the second round -- are not good enough to win the NBA title.

And I like Cleveland. Because I love
LeBron James
. He's my favorite athlete in sports -- I'm allowed to have one, right? -- but I don't like his team. Not as an NBA champion. That's an insult to the champions who came before, none of which had a frontcourt as pathetic as Cleveland's.


Here's a list of NBA champions
. Try to find a team that was good enough to win an NBA title yet was bad enough to start players like Zydrunas Ilgauskas and Anderson Varejao at center and power forward. You can't. Don't bother.

Most NBA champions have had someone like Shaquille O'Neal or Tim Duncan -- sometimes with David Robinson -- or Hakeem Olajuwon or the combination of Ben Wallace and Rasheed Wallace. Going back a little farther, NBA champions had big men like Kareem Abdul-Jabbar (and James Worthy) or Robert Parish-Kevin McHale-Larry Bird or Moses Malone. Or even Jack Sikma. Wes Unseld. Bill Walton.

Since the NBA-ABA merger in 1976, the only exception to my Big Man Theory is the Chicago Bulls dynasty of Michael Jordan, and Cleveland fans are probably clinging to that exception like a drunk clinging to a barstool. Well, forget it. Sober up.


We will cling to it. There is more than one way to build a basketball team. When you have a player as good as Tim Duncan or Shaq or Hakeem, you build that team from the inside out. But when you have a Michael Jordan or LeBron James you build the team around them. You don't want somebody clogging the lane on this team. You want that area open, so you build your team with one of two things. Jump shooting big men or fast big men that can rebound. The Cavs have both of these players in Anderson and Z, that is why we won 66 games.
I'll give you this, that LeBron James is as good as Michael Jordan. Seriously. He is.

But Cleveland has no Scottie Pippen.

Hell, Cleveland doesn't even have 6-foot-10 Horace Grant, who was good for a double-double. And clearly Cleveland doesn't have Dennis Rodman, who was built like Wally Szczerbiak but averaged a Kareem-like 15.5 rebounds per game when the Bulls were winning titles from 1996-98.

Cleveland doesn't need Pippen, Grant or Rodman. This Cleveland team has something that you can't put a pricetag on: chemistry - on and off the court. These players stand by each other, they trust each other, they feed off of each other and they are each other's biggest fans. Each one of these players believes in the system and play their rolls to a T.
The only reason Pippen, Grant and Rodman were as good as they were, is because of Jordan. Don't act like Rodman and Grant were great players either, together they went to 3 all-star games. The Cavs have Ben Wallace and Z, each with multiple all-star appearances.
So what I'm saying is this: If Cleveland is going to win an NBA title this season, with this roster, it will have to do something that has never been done: Win an NBA title without a great frontcourt, and without a great supporting cast for its superstar.

Hell, maybe LeBron is that good. Honestly, I wouldn't mind it. Wouldn't even mind being wrong about this particular column. I don't want LeBron to make the clichéd leap from small-market Ohio to New York. I live in Ohio, too, and I want him to stay -- but he has to think he can win it all to stay. Winning it all this season, one year before he becomes a free agent, surely would convince him to re-sign with the Cavaliers.

But this team has a major flaw, one that general manager Danny Ferry hasn't corrected. He did fabulous work to acquire Mo Williams, Delonte West and Szczerbiak to play alongside James, and the result was 66 wins. Only 12 teams have won 66 games in the regular season, and since the NBA-ABA merger only one failed to win the title: Dallas, in 2006-07. Guess what that Dallas team didn't have? A great frontcourt. Dirk Nowitzki is 7-0 and brilliant, but the Mavs' inside players were Erick Dampier and DeSagana Diop. And you don't win an NBA title with Erick Dampier and DeSagana Diop.

The Cavs have been second in the league in rebounds the past 2 years. That alone tells you our frontcourt isn't terrible, plus Z does plenty of scoring. Why would Ferry go out and waste money building up the front court when the Cavs obviously have struggled shooting the outside jumper in past years. This team needed Delonte and Mo "Flo" so defenses couldn't double LeBron all the time. What Ferry did is gave LeBron a couple jump shooters he could rely on. This includes Z's spot on jumper.
Nor do you win one with Zydrunas Ilgauskas and Anderson Varejao. No, I take that back. A team could very well win an NBA title with Ilgauskas and Varejao, but only if they're coming off the bench. If those guys are your backups at center and power forward, you have a formidable team. If they're the best you've got? Yuck. Ilgauskas is 7-3 and still plays below the rim, lacking the fast-twitch muscles to do anything but spot up and shoot. Varejao has muscle and effort but no skill. Backups Joe Smith and Ben Wallace? They're done. Their gas tanks are empty. This isn't 2004.


As I agree that Anderson is not a legitimate starter at PF but to say that Z should come off the bench is ridiculous. Z is still a force in the NBA and has played a huge role in getting the Cavs where they are today. I can almost guarantee that teams hate playing against Anderson, he is like an annoying gnat, and hustles till the end. He may not be the most talented player but his hustle and unwillingness to quit more than makes up for it.
And this isn't conjecture, people. This is fact. Look who's left in the East: Orlando and Boston. And look who has been most likely to come out of the West: the Lakers or Rockets. All four of those teams have, or had, great size. Orlando has Dwight Howard, Hedo Turkoglu and Rashard Lewis. Boston had Kevin Garnett, plus some Ilgauskas-and-Varejao pieces like Kendrick Perkins, Glen Davis and Leon Powe. Houston: 7-6 Yao Ming. The Lakers: Pau Gasol, Andrew Bynum and Lamar Odom.

Cleveland played those four teams, when those teams were at full strength, a total of 10 times this season.

And lost seven.

Think about it. Against everyone else in the NBA, including the playoffs, Cleveland is 73-9.
Against Boston, Orlando, Los Angeles and Houston -- arguably, teams with the NBA's best four frontcourts -- Cleveland is 3-7.

By my count the Cavs were 4 – 7, and Z was out for 3 of those loses and Wallace was out for a couple also. So of the 10 times those teams were at full strength, 5 of them the Cavs weren't at full strength. So do some research before you make stupid arguments that hold no weight.
Cleveland has caught a break in two of those cases. Garnett (knee) is out for Boston, and Ming (foot) is done in Houston. But that still leaves Orlando and Los Angeles. In five games this season, Cleveland went 1-4 against the Magic and the Lakers.

And those are the teams between Cleveland and an NBA title.

Hey, Cavs fan: Don't hate me because I'm right.

You are right? You are so right in fact that you forgot to include the Denver Nuggets as one of the teams between Cleveland and the title. I bet you the Lakers won't forget about Denver when it's all said and done. Why let the facts get in the way of a good argument? You didn't use very many facts for all of your other points.